Cedar's Mediterranean Foods – Review and Giveaway
I recently tasted Mediterranean Cedar's foods. I got addicted. Once I tried Cedar's Hummus, Spinach Wraps, and Salsa, I pick up a few Cedar's items every time I stop by the Whole Foods market. I just can't pass the Cedar's stand without grabbing some delicious products.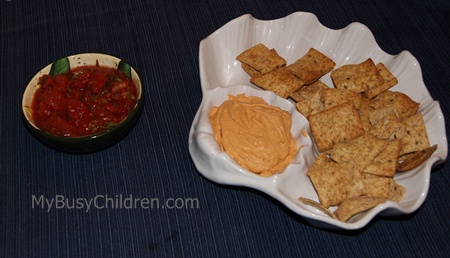 I am always looking for natural and healthy foods. I diligently read labels, never buy anything in cans, and follow my real food guidelines.
Cedar's foods have only natural ingredients. You will never see preservatives, hydrogenated oils, or anything artificial in the list of the ingredients. I wrote a few weeks ago that most of the tortillas have mono- and di-glycerides added. Cedar's Wraps are totally free of these. Moreover, Spinach Wraps have actual spinach in them!
Cedar's prepared salads are utterly delicious and so convenient to use for a side dish or a snack. If you are hosting a party, Cedar's foods are sure to impress your guests.
Cedar's foods are a great choice for lunch as well. A few weeks ago, I was in a great rush to work and realized I did not have my lunch ready. I opened the fridge and saw Cedar's Hummus and Spinach Wraps. Voila – I thought, here is my lunch. I quickly defrosted some cubed chicken breast, which I always have on hand in the freezer. I mixed some hummus with the chicken and wrapped the mixture in the spinach wrap. I added some Cedar's Taboule Salad on the side, and I had a delicious, healthy, all natural lunch. Preparation took less than 30 seconds. I make this lunch at least once a week since.
Giveaway:
Cedar's is generously offering one lucky reader coupons for 10 totally free products from Cedar's Foods. Products include Pita Chips, Salsa, Flavored Wraps, several varieties of Hummus and Vegetable Dips. Approximate value of the prize is 32 dollars.
To participate in the giveaway, you could do any or all of the following:
THIS GIVEAWAY IS CLOSED. The Winning number is 10 – Ellen Ring. Congratulations!
This Giveaway ends on June 15th at 11:59pm EST. The winner will be chosen randomly. I will email the winner, who will have 72 hours to contact me or a new winner will be chosen. You must have a valid U.S. address to enter.
Review/giveaway disclaimer: I received no monetary compensation for this review. I received coupons for Cedar's food for review. The opinions expressed are entirely my own. .